So uhm...I superglued my fingers together.
Journal
Composed:

May 8, 2012 10:33 PM
So...uhm. I superglued 3 of my fingers together.
Sorry for the lack of updates. I meant to draw a lot of VF and give a million updates because I finished my portfolio class finally. And uhm. Yeah.
First I made fun of it because the cap on it looks kind of like a gnome. Maybe I was doomed from the moment of the joke. Anyway...

THE CULPRIT. The bane of my hand's existence.
I'm trying to fix up my "new" office/studio and I was repairing some old bulletin boards where the frame had come away from the board. So out came the glue in a giant gush. Instead of being gel-like and "slow," the superglue came out all liquidy and got EVERYWHERE in a giant splatter. I gasped and stared in confusion at the water-like explosion of doom and then I tried to pull the fingers apart while running to the bathroom.
But it was too late. It was instant. It was evil superglue. EVIL. It was my drawing hand, too! And three fingers would not come apart. Nooooo!
I didn't initially want to share this story but since my fingers are apart now, I feel like I've mustered the courage to tell you how stupid I was. Wear GLOVES, people. And if you get stuck, well. Nail polish remover soaks work relatively well to get it off the skin. >___> If it's a lot of glue, you may have to do several soaks.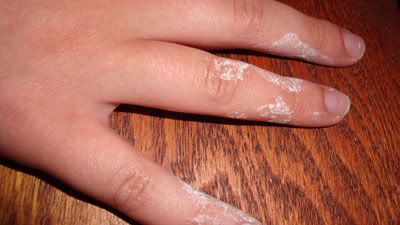 Remnants of crusty glue after nail polish remover soaking. At least they're unstuck!
My sister was wearing her chemistry goggles & gloves. She finished up the bulletin boards, needless to say.
I don't mix well with glue in general, especially hot glue guns, but that's another story for another day. :( I hate glue. So that's how it is. I didn't wanna talk about it (and I made Erin promise NOT to tell a soul!) cause I was so embarrassed, but everyone needs to be reminded to be careful with superglue.
I'll get back to drawing now.... >__>